China unveils 'world's fastest train link'
AFP - December 26, 2009
---
1 BEIJING (AFP) – China on Saturday unveiled what it billed as the fastest rail link in the world -- a train connecting the modern cities of Guangzhou and Wuhan at an average speed of 350 kilometres (217 miles) an hour.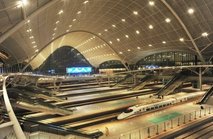 Interior of a new railway station in Wuhan, central China.
2 The super-high-speed train reduces the 1,069 kilometre journey to a three hour ride and cuts the previous journey time by more than seven and a half hours, the official Xinhua news agency said.
3 Work on the project began in 2005 as part of plans to expand a high-speed network aimed at eventually linking Guangzhou, a business hub in southern China near Hong Kong, with the capital Beijing, Xinhua added.
4 "The train can go 394.2 kilometres per hour, it's the fastest train in operation in the world," Zhang Shuguang, head of the transport bureau at the railways ministry, told Xinhua.
5 Test runs for the service began earlier in December and the link officially went into service when the first scheduled train left the eastern metropolis of Wuhan on Saturday.
6 By comparison, the average for high-speed trains in Japan was 243 kilometres per hour while in France it was 277 kilometres per hour, said Xu Fangliang, general engineer in charge of designing the link, according to Xinhua.
7 Beijing has an ambitious rail development programme aimed at increasing the national network from the current 86,000 kilometres to 120,000 kilometres, making it the most extensive rail system outside the United States.
8 China unveiled its first high-speed line at the time of the Beijing Olympics in 2008 -- a service linking the capital with the port city of Tianjin.

9 In September, officials said they planned to build 42 high-speed lines by 2012 in a massive system overhaul as part of efforts to spur economic growth amid the global downturn.

10 The network uses technology developed in co-operation with foreign firms such as Siemens, Bombardier and Alstom.
© AFP
ÉLUCIDATION-EXPLOITATION

I - VOCABULARY OF RAIL TRANSPORT / VOCABULAIRE DU FERROVIAIRE
- Look in the text for the English equivalents of the following French terms and locutions / Rechercher dans le texte les équivalents en anglais des termes et expressions en français

title

titre

liaison ferroviaire
relier

par. 1

liaison ferroviaire (autre possibilité que dans le titre)

par. 2

train à très grande vitesse
voyage
trajet

par. 3

réseau à très grande vitesse
relier (autre possibilité que dans le titre)

par. 4

bureau des transports
en exploitation
ministère des chemins de fer

par. 5

essais de fonctionnement en vue de la mise en service
entrer en service
train régulier

par. 6

train à grande vitesse

par. 7

programme de développement ferroviaire

réseau national
réseau ferroviaire

par. 8

ligne à TGV

par. 9

refonte du réseau

II - VERBS FROM THE TEXT / VERBES DU TEXTE
- Look in the text for the English equivalents of the following French verbs and locutions / Rechercher dans le texte les équivalents en anglais des verbes et expressions en français qui suivent :

par. 1

dévoiler, lever le voile sur
annoncer comme étant, annoncer être

par. 2

faire passer le trajet à
réduire de X heures la durée du trajet

par. 3

étendre un réseau
visant à + infinitif

par. 6

réaliser l'étude de, étudier

par. 7

faire passer un réseau de X kilomètres à X kilomètres

par. 9

envisager de construire, projeter de construire
stimuler la croissance économique

par. 10

élaborer des techniques, mettre au point des techniques

III - EXPRESSING SPEED / EXPRESSION DE LA VITESSE
- Mark the following English phrases and their translation / Noter les expressions en anglais et leur traduction :

par. 1

at an average speed of 350 kilometres (217 miles) an hour
à la vitesse moyenne de 350 kilomètres (217 miles) / heure (§1)
the train can go 394.2 kilometres per hour
le train peut faire du 394,2 kilomètres à l'heure (§4)

IV - FALSE FRIENDS / FAUX-AMIS
- Find ou in the text the English terms and locutions corresponding to / Trouver dans le texte les termes et expressions en anglais correspondant à :

trajet (§2)
projets (pl) (§3)
finalement (§3)
responsable (adj) de (§6)
actuel (§7)
étendu (§7)
des responsables (§9)
planétaire, mondial (§9)

V - PREPOSITIONAL PHRASES / LOCUTIONS PRÉPOSITIVES
- Find in the text the English counterparts of the following prepositional phrases / Trouver dans le texte l'équivalent anglais des locutions prépositives suivantes :

dans le cadre de (§3 et 9)
selon, d'après (§6)

VI - MISCELLANEA / DIVERS
- Find in the text the English terms and locutions corresponding to / Trouver dans le texte les termes et locutions en anglais correspondant à :

moyen (adj)
antérieur
agence de presse (§2)
Chine Nouvelle (§2)
nœud économique (§3)
ville portuaire (§8)
Pour imprimer, passer par le mode paysage
To print, use landscape mode
© Christian Lassure - EFT
Le 14 mars 2011 / March 14th, 2010